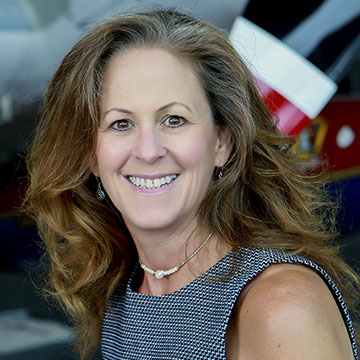 An exhibition designer in the museum community, Laura DiRado has been a graphic designer for more than 20 years. She has served in a variety of design roles for public museums and private industry. Committed to establishing best practices in exhibition development and design, Laura's passion lies in creating thought-provoking design and engaging interactive experiences that inspire and empower visitors to be active participants in their environment.
She has collaborated with a variety of stakeholders that include dancers, artists, scholars, community organizations, other museums, and even a unique group of warbird owners and pilots from around the globe. Her hands-on interpretive design utilizing innovative digital printing solutions has transformed numerous spaces into stunning interactive visitor experiences, receiving global recognition.
Laura's volunteer and philanthropic efforts have supported several non-profit organizations including: The National Museum of Dance, The Leukemia & Lymphoma Society, Get Your Rack Back, Saratoga Arts and The Prescott Foundation.
She has been honored with the Saratoga Springs Woman of Influence Award in 2018 and is a four-time Leukemia & Lymphoma Society Triple Crown Award recipient.
When not designing exhibits, Laura has also been a published contributor in national and international magazines and has presented at conferences on a variety of topics.